Little Miss Inventor and STEM toys
Is your little girl or boy full of ideas and inventions? If the answer is yes then they will love our brand new Little Miss Inventor design based on the 36th 'Little Miss' character in the popular children's book series.  She is a female engineer who creates extraordinary inventions in a shed at the bottom of her garden who we think sends a great message to young children. We're pretty sure that Little Miss Inventor would thoroughly approve of the recent trend in STEM toys.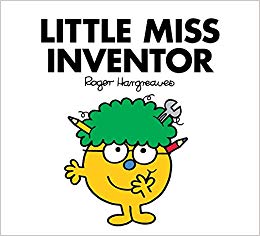 STEM stands for Science, Technology, Engineering, and Maths. STEM is important because it touches every part of our lives in the science that is all around us. STEM toys have become a bit of a trend over recent years, as more and more parents see the value of cool toys that encourage a love of all things science and tech.
There are some great STEM games and kits out there which encourage kids to learn while having fun. One of our favourites is learning about simple electrical circuits with dough, which our little tester absolutely loved. We think this DIY Electro Dough kit by Tech Will Save Us from Pimoroni and all good toy shops looks great and is suitable from age 4+.