Black and White Mix Set of Nametags
A label for every need, and excellent value.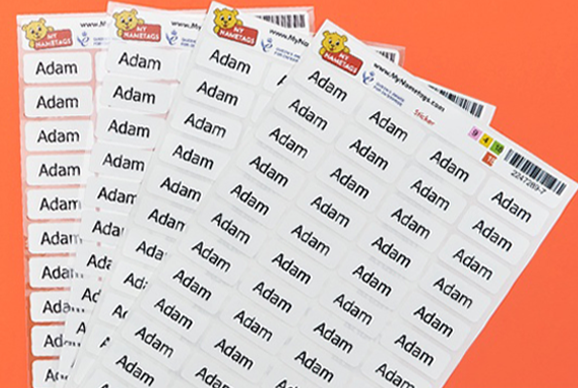 Our black and white mix set is a great value option with a label to cover all of your needs. The Iron-ons can be applied directly to clothing while the sticker labels can be used on objects and equipment (but are not suitable for use on clothing).
The iron-ons are 100% waterproof, resistant to wear and are designed to withstand the rigours of communal living and school life. Our labels are chosen by hundreds of parents and care home managers across the country. At just £15.95 for 56 iron-on labels and 56 sticker labels, they are great value option.
Order 1 set of 112 labels (56x stickers/56x iron-ons) for £15.95
Our mix set of black and white stickers and iron-ons are suitable for:
Stationery

Lunch boxes

Toys

Clothing

School uniform

Sports clothing

Socks & underwear
We have the best name labels in the world
High quality

Our nametags are made to last. We use the best possible material and adhesive to ensure our labels stay stuck and will not suffer from wear.

Last longer

Designed to withstand the rigours of communal living and daily school life. They will remain in place for years. We offer a 10-year year washing guarantee for our black and white iron-ons. The sticker labels are extremely resistant to dishwashers and wear.

Customer Satisfaction

We have an almost 100% customer satisfaction rating, unmatched in the nametag market. We are confident that you will love our labels too and will be happy to assist should you encounter any issues.

Sustainability

Labelling your child's items means these are more likely to be returned when lost. A small label can prevent parents from having to rebuy items, encourages reusing and reduces the amount of waste ending up in landfill.
Get started!

Design your mix set of black and white iron-on and stickers labels now, or choose from our other products including our super-versatile colour sticker labels.
56 black and white iron-on labels and 56 black and white sticker labels for £15.95