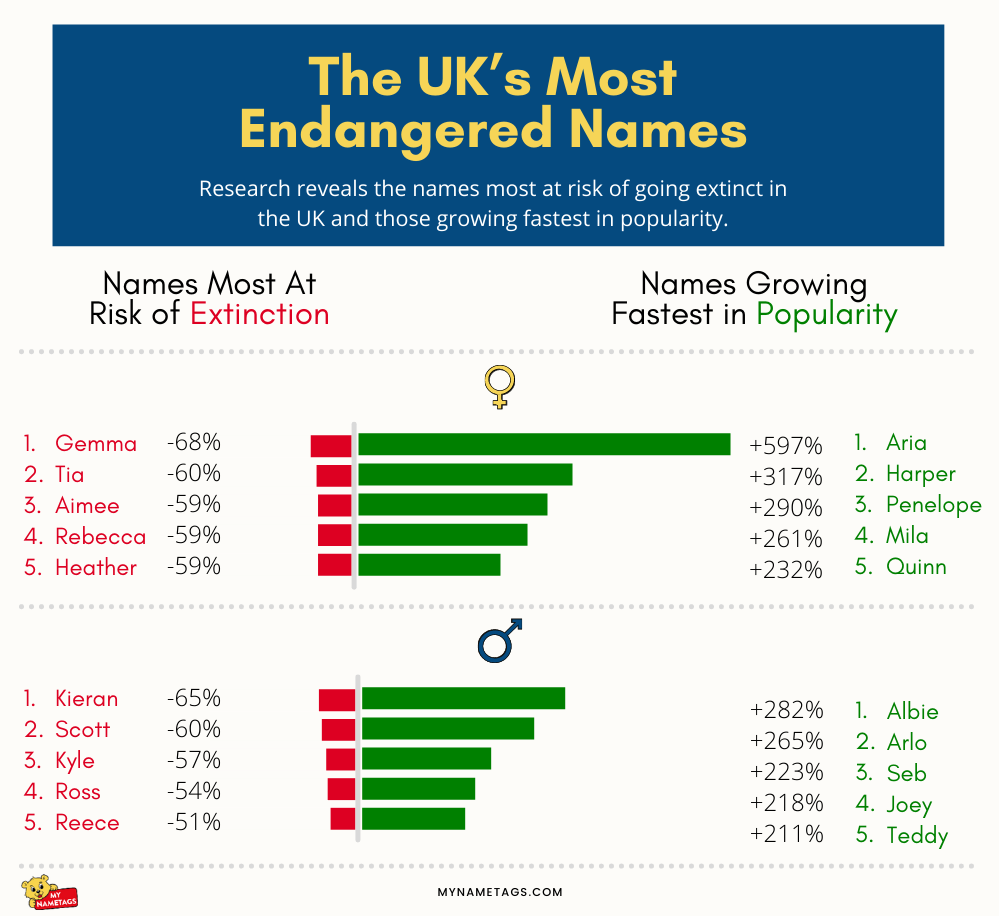 Here at My Nametags, names are central to what we do, and we see thousands of them every day on our labels. This allows us to clearly identify trends in the names that are rising and falling in popularity. We have seen a big shift in name trends over the last decade, which got us thinking about those names that are at risk of dying out completely. So, we did some analysis of our database to identify the UK's most endangered names, and those that are replacing them in popularity.
THE RESULTS
We analysed our database of more than 1.5 million names and their popularity over the last decade to identify the latest name trends. Our analysis showed that the use of the names Gemma and Kieran has declined by more than 65 percent, making them the UK's most endangered names. In fact, there have been just four uses of the name Kieran so far in 2021 and no uses of the name Gemma.
It isn't just the names Gemma and Kieran that are at risk of dying out though. Other names joining the list of the 50 most endangered names in UK include Rebecca, Lauren, Hannah, Matthew, Ryan and Robert. All of these names have seen more than a 40 percent decline in popularity over the past 10 years, placing them firmly in the danger zone.
Our research found that the drop in popularity of these names has made way for new, more unusual names, with popular culture becoming a big driver of the latest name trends. For example, uses of the name Aria have grown by almost 600 percent, inspired by the hit TV show, Game of Thrones. Mila and Penny also make the list of fastest growing names, inspired by the actress Mila Kunis and the lead character in the cult-favourite sitcom, The Big Theory.
Alongside a taste for names inspired by film and TV, we also identified a trend for using nicknames as given names. Albie, Bertie, Teddy, Belle and Ronnie all make the list of the top 50 fastest growing names, ahead of their traditional counterparts Albert, Theodore, Isabel and Ronald.
However, despite the growing trend for shortened names, we have also witnessed a resurgence of 'old-fashioned' names. Mabel, Flora, Florence, Rupert and Arthur have all seen huge growth over the past decade and are now no longer names that are exclusively associated with the older generation.
THE LIST
Names most at risk of extinction:
Boys
Girls
Kieran
Scott
Kyle
Ross
Reece
Calum
Jonatan
Bradley
Joe
Sean
Gemma
Tia
Aimee
Rebecca
Heather
Natasha
Irene
Lauren
Morgan
Bethan
Names growing in popularity:
Boys
Girls
Albie
Arlo
Seb
Joey
Teddy
Rupert
Ralph
Bertie
Jesse
Elijah
Aria
Harper
Penelope
Mila
Quinn
Ivy
Cora
Willow
Thea
Darcie
For more name inspiration, check out our latest baby name predictions for 2021 and beyond.