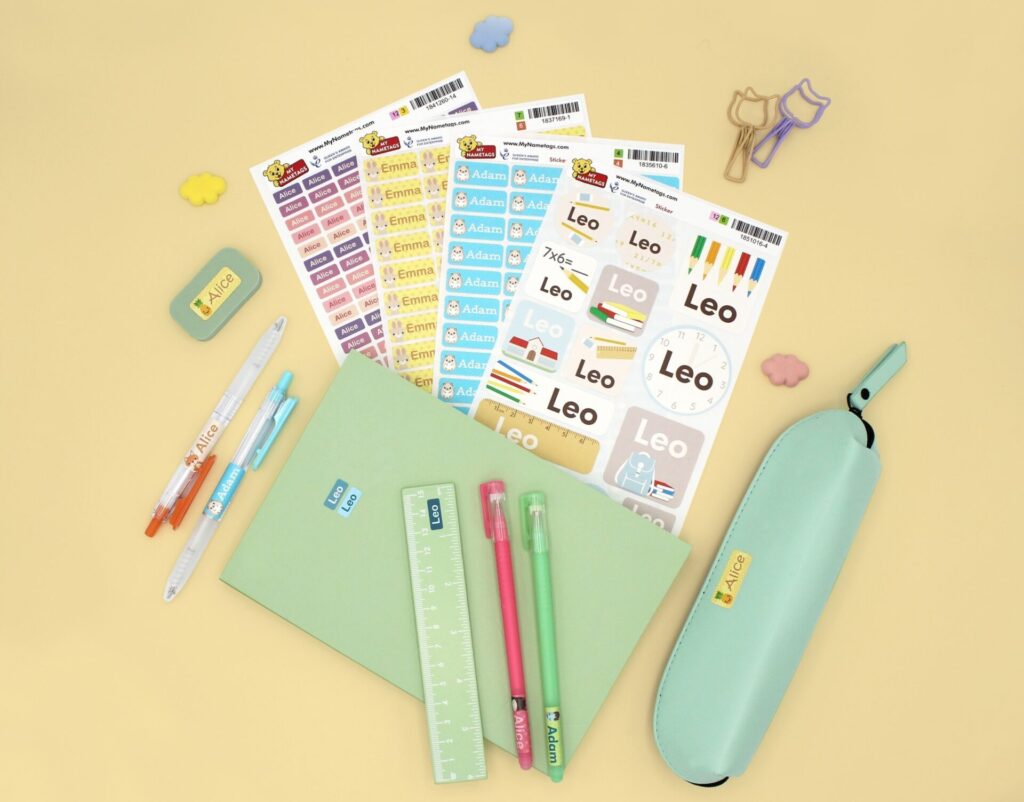 With children going back to school you may have started compiling a list of all the things they need for the new year. If labels are in that list (and it should!) you may be finding it hard to decide what kind you makes more sense to get so we have broken it down for you.
Our most versatile name tags. Colour sticker name tags are a good option if you are looking for a label that can stick on everything. They can be used on clothing (on the care label) and all stationery, books, and even lunchboxes and drinking bottles. You can personalise them with your chosen background, icon, font and font colour so you can create the perfect label for your child. Each set comes with 56 labels each 30 x 13mm in size.
Iron on labels will be the best option for clothing. You can label school uniforms, jumpers, blazers, shirts, PE Kits, anything your child is likely to take off and lose. Our Iron on labels can also be used on socks, coats, scarves and gloves. You can personalise them with your chosen background, icon, font and font colour so you can create a label that suits your child. The labels can be applied directly onto the fabric and will last even after being repeatedly washed.
Our Maxistickers make personalising your child's items even more fun. Perfect for bigger items such as lunchboxes, notebooks, water bottles, shoes. A set has 21 maxistickers in several shapes and sizes – circles, squares and rectangles all on one set! Each label also comes in a slightly different design (within a theme) so it's a great option if you are looking for a bit more variety.
The more stylish and discreet option, our ministickers are perfect to label smaller objects that are even easier to lose. They are ideal to label lots of items quickly – all the pens, pencils, markers, rulers. Because they are smaller they are also a great option for older kids as they don't come with an icon and have a solid background. We've got 4 different colour themes to choose from and you are able to add a first name or a surname (as it's smaller you are only able to add one line of text). A set has 175 ministickers and each is 16 x 6mm.
Labelling your child's things is incredibly important, it helps them easily identify what is theirs, helps reduce lost property in schools and nurseries and helps avoid you having to rebuy things. They also encourage your children not to share things with other children, leading to a reduction in the spread of germs which, at the moment, is very important.
Visit our website to find out more about My Nametags and our personalised name tags.