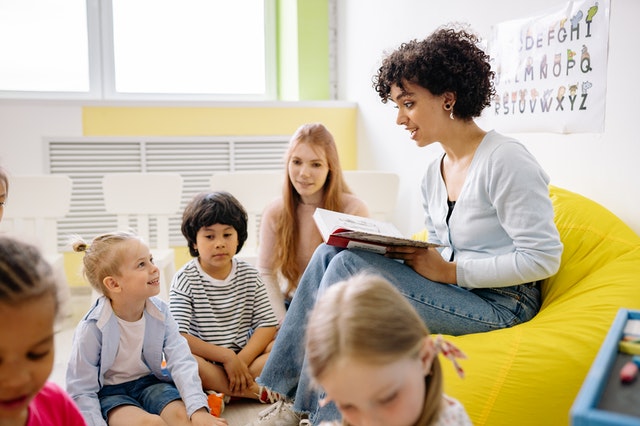 Guest post by Tracie Johnson
If you're worried your kids would rather play video games or browse social media than pick up a book, then it's time to take action. After all, reading has plenty of benefits including boosting imagination, improving concentration, and exercising the brain, among others. Here are a few ways to get your kids to read in the digital age.
1. Reading Can Be Fun
While making children understand that reading can be fun may not always be easy, it can be accomplished. For instance, you can use colourful puppets to inspire play and engagement. Another idea is to have kids draw pictures with crayons, paint, or pencil of the stories and display these on a wall for everyone to admire. Further, purchase or make costumes for your children to wear of favourite book characters for Halloween.
Alternatively, have a storybook party where friends are invited and everyone dresses up as a book character. Moreover, you can create a reading space, especially for kids. You can decorate it with favoured storybook characters, brightly coloured paint, whimsical furniture, and more. On the other hand, keep it simple by putting a comfy reading chair in your child's bedroom or somewhere else.
2. Find Exciting Books
You can find many exciting children's books at libraries, bookstores, or online. For example, there are books about anatomy for kids. Kids can learn about the human body, science, and more. Developing a love for anatomy at an early age may even inspire youth to dream of becoming doctors, nurses, or something else. Dragons, unicorns, real-life heroes like firefighters, fairies, and much more also populate the most exceptional reads. As well as this, you can pick out humorous reads that tickle the funny bone.
Of course, almost nothing can be more satisfying than having a good laugh at the expense of a character. A few funny reads to try are The Monster at the End of This Book, Captain Underpants series, and Diary of a Wimpy Kid. Be sure to pay attention to what youngsters like so you can choose these types of books next time. Some of the best children's books are The Very Hungry Caterpillar, Corduroy, The Snowy Day, The Engine That Could, and various others. You can discover a realm of budget-friendly or free reads by searching online, at charity shops, or at numerous other places.
3. Read One Book a Day
Committing to reading one children's book each day can help make books more memorable to youth. If your child doesn't feel like reading during the day, try reading a book aloud before bedtime. Doing so means your son or daughter won't have any other activities to choose from. Furthermore, reading aloud to youngsters promotes healthy brain development, encourages stronger emotional connections, motivates a love of reading, improves listening and language skills, and creates stronger parent-child bonds. You and your child can gain comfort in doing a family-friendly activity every day. This can help you both forget about your problems for a while and focus on a great story.
4. Make Books Accessible
If your child doesn't have any books handy, it can be difficult to find one to read in the first place. You can make things easier by having a bookshelf nearby in your home at all times. Try setting this in your kid's bedroom or in the living room. Children's bookshelves can be extremely aesthetically pleasing and come in varied colours, designs, and shapes.
Additionally, you can place a book on top of a nightstand as a reminder to read before bedtime. You may even find that your children open the book in the morning to read before breakfast. Another option is to give youth a laptop or tablet for downloading digital books. Waterstones and Amazon have apps available for reading when on the go or even at home. In addition, apps make reading more accessible than ever. You can even give gift cards for kids to buy e-books for holidays or anytime.
Closing Thoughts
Although using technology can be a lot of fun, this isn't the healthiest activity for kids. Instead, it's important to teach youth the value of doing meaningful activities that add value to one's life. Indeed, children who read can be happier and healthier now and in the future than those who don't.