Throughout the years we have seen many baby names trends influenced by pop culture, including TV, film, and celebrities. Ahead of the 2022 World Cup, we wanted to find out the influence sportspeople have had on name trends too.
Sporting personalities make excellent role models. They are a symbol of hard work, perseverance, and strength, so it's no surprise that we found lots of parents have been inspired by their generation's biggest sporting heroes…
The Current Biggest Influencers
Our analysis of Office for National Statistics (ONS) baby name data found that for boys, it's England football stars that lead the way with David Beckham, Peter Crouch, and Teddy Sheringham having the biggest influence on name trends in the last 25 years.
For girls, it's tennis legend Serena Williams, long-distance runner Paula Radcliffe, and equestrian superstar Zara Philips that have influenced parents the most in recent generations.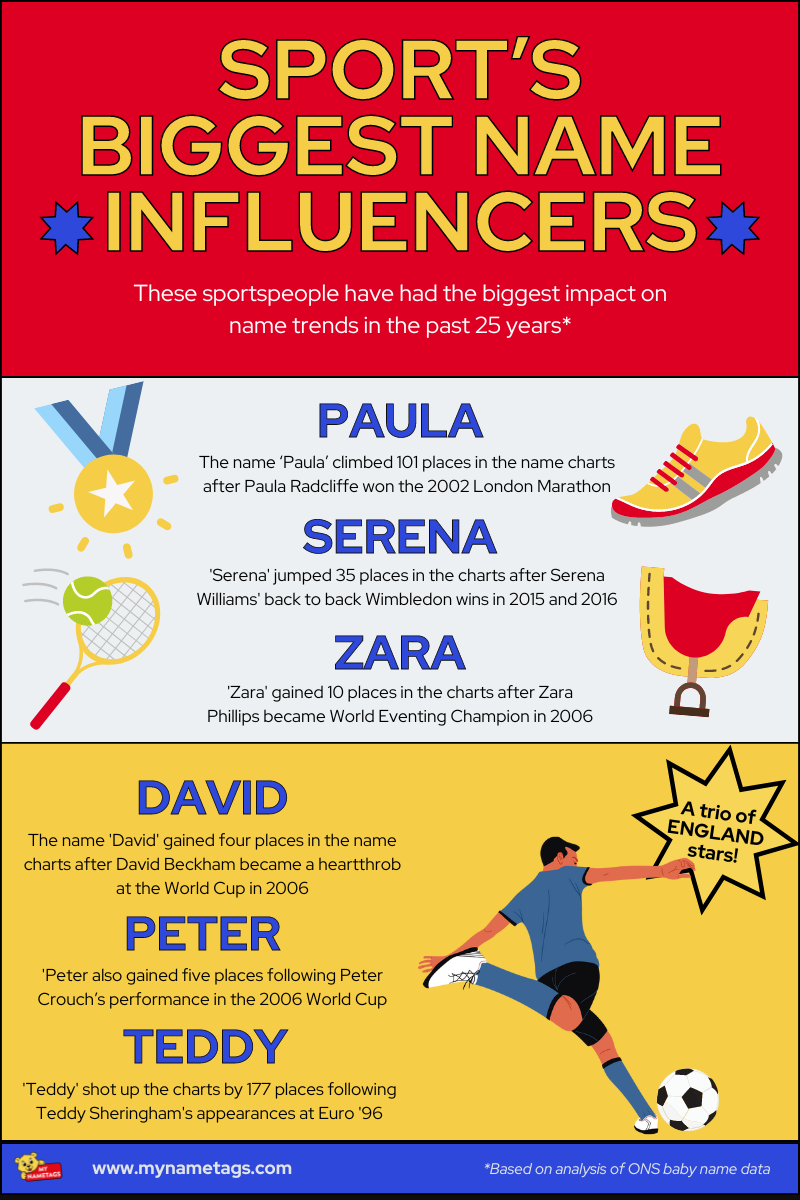 Future Trends  
Our work gives as a unique insight into emerging trends. With the 2022 World Cup kicking off next week we anticipate a rise in the number of babies named after the latest generation of England stars.
We also saw women's football at the fore during this summer's 2022 Women's Euro competition where the Lionesses earned their first major tournament win. These are the names we predict will climb the rankings as a result:
Chloe
Chloe Kelly's biggest moment of the 2022 Euro Women's tournament came in the final against Germany. Whilst she scored the winning goal, the celebration will probably be remembered more vividly – even if it did earn her a yellow card.
Alessia
Alessia Russo's backheel goal against Sweden in the semi-final had 'audacious' trending on Twitter. The Manchester United forward's success is sure to be inspiration for the next generation.
Mason
Having already won the Champion's League at age 22, Mason Mount has made himself an indispensable player to managers for club and country. He's made 32 appearances for England so far in his career, including the 2020 Euro final last year.
Phil
One of England's brightest young talents, Phil Foden has had a successful career already for his club, scoring 30 goals in 110 appearances. The name Philip is already slowly climbing the charts since his debut for England in 2020, how high will it peak?
Your child can now design their own football kit name stickers here.