What are the best iron on name labels UK? Read about My Nametags' clothing labels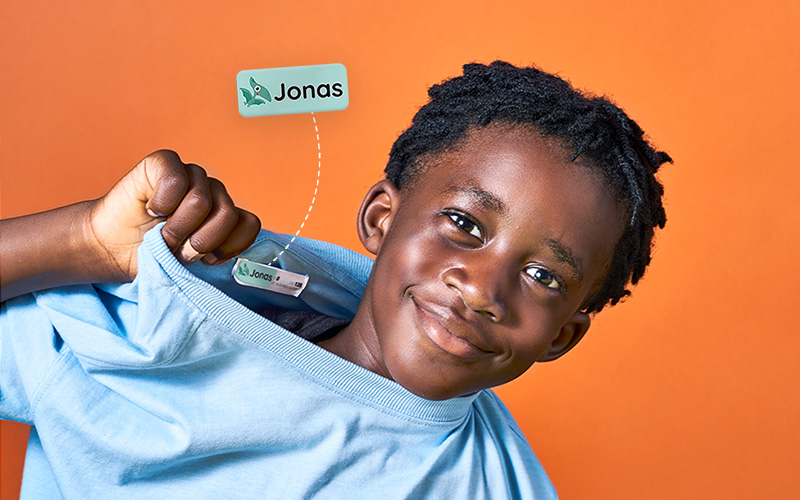 It's a problem that has concerned parents for years: how do you prevent school clothing from being lost or accidentally swapped? Thankfully, the best iron-on name labels in the UK are providing a simple, versatile and effective solution.

Kids will be kids — which means items of school uniform are inevitably going to get mixed up and mistakenly swapped from time to time. But more and more parents are stopping this from happening with the use of iron-on clothing labels. Easy to apply and customisable, these relatively simple solutions are saving parents across the country a small fortune. But how do you choose the best iron-on name labels in the UK when there are so many options?

To help you make the right decision, we have created a guide to buying name labels for clothing in the UK. Choose the best option for your needs, and you can say goodbye to lost school ties, shoes and PE garments for good.
Why Are Iron-on Name Labels in the UK Important?
The typical school day for an average child in the UK is often fraught with chaos. Moving from classroom to classroom, changing for PE and performing a range of school-based activities creates plenty of opportunities for lost items of clothing.

The problem with school uniforms is that they all look the same. If there are 20 or 30 identical PR shirts lying around a changing room, it's very easy for children to pick up someone else's by mistake. And even if you realise the mistake, tracking down your child's garments can prove impossible.

It's not only school where the problem of lost or misplaced clothes causes issues. Everything from care home clothing to work-based uniforms is susceptible to this type of accidental swapping. There is a simple solution, however, and it involves labelling clothing.

The simplest option is often to simply write the name of the garment's owners with a pen. But what happens after a few washes? In many cases, the name can fade. And there's also the issue of appearance to think about. Do you really want to deface clothing with handwritten names?

Whether the garments in question are in a nursery or a care home, you can protect them from accidental swaps — and make them easier to find and identify — with personalised iron-on name labels in the UK.

To ensure your money is well spent, however, finding the best iron-on name labels in the UK is very important. Only a well-made product specifically designed for clothing will protect your garments for a lifetime — which is why a name label you can apply with a domestic iron is the perfect solution.
What to Look for When Shopping for the Best Iron-on Name Labels in the UK
Perform a quick Google search for the best iron-on name labels in the UK, and you'll find everything from official reviews to customer testimonials. But how do you know the products in question are up to the job? A good iron-on name label for clothing must deliver the following:

1. The ability to remain in place after multiple washing cycles

2. The ability to remain legible and be found when lost for the garment's lifetime

3. An attractive way to identify clothing that's in keeping with the garment's style

4. To ensure your money is spent wisely, take some time to compare all the best iron-on name labels in the UK. But make sure they deliver the following:

5. Premium materials

6. High-quality, waterproof inks

7. Durable adhesives that melt freely into fabrics

8. The option to personalise them via an online design tool

9. A manufacturer's guarantee or promise to last as long as the garment

10. 100% waterproof

The best iron-on name labels in the UK can be applied to a range of fabrics in just a few seconds — either with a domestic iron or a set of hair straighteners.
What Uses Does an Iron-on Label Have?
Most iron-on, personalised name labels for clothing are bought by parents trying to protect their children's uniform at school. The ability to quickly and permanently label a school jumper, tie, shirt, trousers or shoes gives parents a way to protect their child's possessions and save money.

High-quality iron-on clothing labels are designed to permanently identify the following items:

1. Jumpers

2. Shirts

3. Coats

4. Ties

5. Trousers

6. Skirts

7. Dresses

8. Anything made with fabric

And it's not just school uniforms you can protect with waterproof clothing tags. Care home tags, for example, help residents to protect their clothing from accidental swaps. They also make tracking down lost items a much quicker and simpler process.

Work environments that require employees to wear identical uniforms are also susceptible to lost and swapped garments. Iron-on name labels for clothing prevent people from inadvertently picking up the wrong jackets, shirts and protective clothing while in the workplace.
Why choose personalised iron-on nametags?
If you're searching for the best iron-on name labels in the UK, you'll probably come across the type that allows you to write your name on the label. While this provides a simple solution to lost and misplaced clothing, it's not without its issues.

The most cost-effective option is to select a product that allows you to personalise it online. While this might be a little more expensive in the short run, having your name permanently printed onto each clothing label will ensure it doesn't fade over time — remaining easily legible for the lifetime of the garment.

Personalised name labels for clothing also give you the option to have a little fun — which is great if you're designing the labels with a child. Clothing name label manufacturers such as My Nametags allow you to design your labels via a user-friendly online design tool. Choose from a range of fonts, colour schemes and design elements to create unique name labels you won't find anywhere else.

Choose larger labels for school uniforms if you want to add a little of your child's character to their clothing. Adding their favourite animal or toy, for example, adds personality to any garment. The design process may also allow your child to express their creative side.
Ways to Customise Iron-on Name Tags for Clothes
The sky's the limit when it comes to personalising iron on name labels for uniforms and clothing. However, you need to ensure you choose a manufacturer that provides an online design tool. You should also ensure that the labels are available in colour — as this isn't always the case.

The typical size of a colour iron on name label is 13mm x 30mm, although you may find other sizes. My Nametags, for example, offers this standard size in sheets of 56, so you can label multiple garments with a single design.

Customising iron on name labels for clothing is lots of fun. You will usually get a selection of quirky and distinctive illustrations to choose from, as well as fonts, colour schemes and much, much more. Choose a manufacturer that allows you to type in at least two text groupings. Examples of text you might want to include are as follows:

1. First name

2. Nickname

3. School name

4. School class

5. Teacher's name

6. Carer's name

7. Phone number

How you choose to identify your clothes with name labels is up to you. However, take care not to give our sensitive information — particularly if you're labelling a child's clothing.
What's Best: Iron-on or Sew on Labels?
Whether you're searching for care home tags or labels for school uniforms, you'll find iron-on and sew-on options, as well as stickers. Depending on what you're labelling and what you plan on doing with the garment in the future, choose the option that's best for you.
The Advantages of Iron-on Clothing Labels
Iron-on labels for clothing provide you with a waterproof, permanent way to identify a range of garments. You can apply them to any fabric in seconds using a domestic iron or set of hair straighteners. If you want a foolproof way to identify garments that you aren't going to give away in the future, iron-on name labels for clothing are ideal.
The Advantages of Sew-on Clothing Labels
Sew-on name tapes look fantastic, and they provide a secure, semi-permanent way of labelling garments. But unless you're handy with a sewing needle, the results can be messy and unreliable.
The Advantages of Name Label Stickers
Name label stickers are semi-permanent, which is brilliant if you plan to give garments away or share them. And because they're manufactured with waterproof PVC and adhesives, they don't budge despite regular washing and rigorous use. However, you must apply them to care or brand labels — they won't stick to fabrics during washing cycles.

If you're in search of the best permanent name labels in the UK, there's no doubt that iron-on options are the best. Attractive, durable and fully customisable, they're also exceptionally easy to apply.
Top Tips for Choosing the Best Iron-on Name Labels in the UK
There are literally dozens of iron-on name labels to choose from in the UK. While price should be a factor, it shouldn't be your priority. Value for money is more important, as a more expensive option that lasts forever is often the most cost-effective way to go.

It's also worth paying a little more for high-quality materials. After all, the average iron-on name label for clothing will need to withstand regular use and multiple washing cycles. Look for products that have been tested in real-world conditions for durability and reliability. The best options will remain firmly in place despite regular and rigorous abrasion.

In short, quality is often more important than the price you pay. Choose iron-on name labels for clothing that you'll never need to replace, and you'll actually save money in the long run.

Other tips for buying high-quality iron-on name labels include:

1. Look for waterproof guarantees — iron-on name labels will have to endure many washing cycles during their lifetime

2. Check for customer satisfaction levels and reviews — they're often the best method for determining a manufacturer's credentials

3. Search for sustainable products and environmentally conscientious manufacturers.
A Few Final Questions on Iron-on Name Labels
At My Nametags, we create high-quality, waterproof iron-on name labels for clothing. Our customers range from the parents of schoolchildren to the relatives of care home residents. As a result, we're often asked questions about the efficacy and reliability of iron-on labels. We believe that consumers should be in possession of all the facts before making important buying decisions, which is why we've listed a few of our most frequently asked questions below.
Are iron-on name labels any good?
The principle of iron-on name labels is good, but they need to be made with high-quality materials and equipment in order to deliver reliability in the long term.

A good iron-on name label for clothing should feature waterproof materials and adhesives. It should be fully customisable and proven to withstand regular washing cycles. Once you iron on a name label, it should remain in place and perfectly legible forever. Look for products that offer a significant guarantee to ensure your money is well spent.
Do iron-on name labels for clothing stay on?
The best iron-on name labels in the UK will last longer than the garments they protect. Look for products that utilise premium materials and offer a significant quality guarantee.

Iron-on clothing labels for uniforms should feature a special type of adhesive that "melts" into fabrics when heat is applied. You can use an ordinary domestic iron or a set of hair straighteners to permanently identify a garment in a matter of seconds.
How do you iron-on name labels?
The great thing about iron-on name labels for clothing is that you can locate them anywhere — on just about any fabric. Place them in your preferred location on the garment and apply heat.

If you need to apply an iron-on clothing label in an awkward area, use a set of hair straighteners instead of an iron. The heat activates the specially formulated adhesive on an iron-on label to make the application process exceptionally quick and easy.
Are name label stickers a better option?
Clothing name stickers can't be applied to fabrics — they must be stuck onto care labels. Iron-on labels can be applied anywhere, providing a permanent labelling solution.

Stickers are limited to care and branding labels, which limits their efficacy and impact. If you want to use clothing labels as a way to personalise garments, for example, the iron-on variety is a much better option. Just remember: labels you apply with heat are permanent, which may cause problems if you intend to give away the garment in the future.
My Nametags Is the One-Stop-Shop for Iron-on Name Labels
The best iron-on name labels in the UK deliver the perfect combination of quality, durability, customisable design options and easy application. With My Nametags, you get all of these important attributes, as well as the knowledge you're reducing waste and your impact on the environment.
How to order the best iron-on name labels
If you want to read more about our iron on name labels or shop for our personalised iron-on labels, click on the buttons below.




the best iron on name tags for clothes
Queen's Award Winner
We were presented with the a Queen's Award by HRH King Charles III (then The Prince of Wales) in recognition of bringing quality and innovative products to international markets.
Happy Customers
Because of our commitment to first rate service and quality products, we have a near 100% customer satisfaction rating in multiple countries which is unmatched in the nametag market.

For kids and Adults
Thanks to our design tool, adults and kids alike can create perfect labels. This is because you can make a total of 19,474,560 combinations using our range of designs, backgrounds and fonts!
Promoting Sustainability
A total of 1.4 million lost school uniforms (354 tonnes of plastic) ends up in landfill each year in the UK (My Nametags, 2020). Help our planet now by labelling to prevent loss.