Best name stickers in the world from My Nametags - how we make the top labels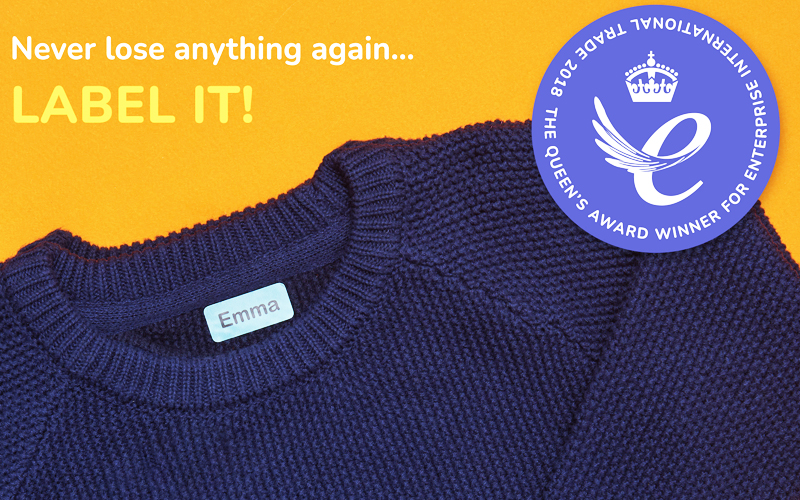 With so many sticky name labels on the market today, how do you know you're getting a great product? How can you be sure that your new stick-on labels will remain in place after dozens of washing cycles?

Well, you can start by reading customer reviews and taking a close look at how the stickers are made. At My Nametags, we manufacture great sticky name tags with premium PVC, which makes them durable and waterproof. We also use solvent-free inks and high-grade adhesives. The result is a hard-wearing clothes sticker that won't budge — regardless of how often you wash the garment.

We're confident that the standard of our sticky name labels is the highest you'll find in the UK. We know this because our customers keep coming back to us. We take pride in delivering quality and reliability, which are backed up by our 10-year guarantee for equipment name stickers cleaned in dishwashers.

When it comes to creating quality stickers, we simply won't be beaten:

1. We manufacture all our quality labels right here in the UK

2. We use premium inks and materials to ensure our sticky name labels never fade

3. We've designed our stick labels to remain in place forever when they're placed on care or brand labels

4. We're the only sticky name label company that applies a silver-based antimicrobial coating on every label
Queen's Award-winning label company
If you're looking for independent evidence of our commitment to quality and reliability, you only have to look at what we've achieved over the years. We recently received the Queen's Award from King Charles III (then Prince Charles) — a recognition of our dedication to high-quality sticky labels for clothes and equipment.

We have invested time, money and effort into creating the best name stickers in Britain. Our unwavering commitment to using quality materials and proven manufacturing techniques ensures every label we produce can last longer than the garment it identifies. We're the only sticky labels company to receive the Queen's Award because we're the only company that makes quality and durability priorities.

My Nametags was recognised for its great achievements in many areas of our sector, including:

1. Our impressive foreign export statistics

2. The consistent quality of our sticky labels

3. Our great commitment to sustainability and the environment

4. Our promise to only ever use solvent-free inks

5. Our use of a silver-based antimicrobial coating on all our labels.
Washable name tags
Sticky name labels from My Nametags are designed to stand the test of time. We understand how hectic life can be for children and young families. That's why we set out to design and manufacture the best name labels in the UK.

One of the issues raised by consumers was the ease at which other sticky name tags come loose. Our washable name labels are made with premium PVC and adhesive in order to remain resistant to washing and friction. We're so confident that our labels can withstand regular dishwasher cycles, we provide a 10-year guarantee with every purchase.

When you apply our sticky name labels to care and brand labels on school clothes, you can also rest assured they'll remain firmly in place — thanks to the quality of our plastics and adhesives.
Top choice for school name labels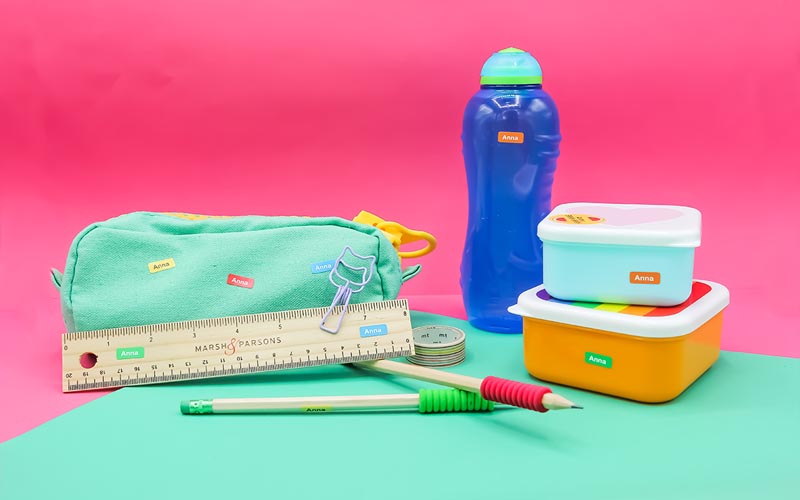 Your search for the best name labels for school clothes is over. My Nametags has a reputation for quality and durability. We use only the finest materials, and our UK-based production techniques are second to none. We care deeply about sustainability and the environment, too. And we're the only UK sticky name label company to receive the Queen's Award.

For highly durable, customisable stick-on labels for school clothes, you've come to the right place. Say goodbye to lost and accidentally swapped uniforms for good!
Huge range of personalisation options for our labels
My Nametags labels have a huge number of options when you make you name labels. There is a great range of designs or icons that you can use to personalise the labels. You also have a number of background, text colours and fonts to make the labels your own. By offering millions of labels, you can let you son or daughter's imagination run wild, and when they receive the labels in the post soon after, they are proud to see the result of their design work.

Our school uniform labels can be used for any clothes your child takes into school, and if things are lost, it will be returned to you. So the My Nametags support both your child's creativity and your wallet.
How to order the best name stickers
If you want to read more about our name stickers or shop for our personalised sticker labels, click the link.




Why Chose My Nametags?
Queen's Award Winner
We were presented with the a Queen's Award by HRH King Charles III (then The Prince of Wales) in recognition of bringing quality and innovative products to international markets.
Happy Customers
Because of our commitment to first rate service and quality products, we have a near 100% customer satisfaction rating in multiple countries which is unmatched in the nametag market.
Never Falls off
Our Colour Name Stickers will stay stuck after being put in the washing machine, dryer, dishwasher, or microwave countless times. Also, there is no need to clean them, they're antimicrobial!
Promoting Sustainability
A total of 1.4 million lost school uniforms (354 tonnes of plastic) ends up in landfill each year in the UK (My Nametags, 2020). Help our planet now by labelling to prevent loss.

Do stick on labels come off?

High-quality stick-on labels are designed to remain in place on both clothes and equipment such as water bottles. However, you can peel them off if you need to re-label an item for someone else.

If you need a permanent label for clothes, you should buy an iron-on name label — which you can apply with a domestic iron or a pair of hair straighteners.
Do iron on name labels stay on?

Yes, iron-on name labels are permanent. Once you've melted them into the fabric with an iron, they will remain there for the garment's lifetime. Use stick-on labels as a non-permanent alternative.
Are iron on labels any good?

For clothes, you won't find a more reliable or stylish way to identify them in order to prevent mixups and swaps. Iron-on labels can be applied directly to fabrics in seconds with a domestic iron.
How do you stick labels to clothes?

In most cases, you peel the sticker off a sheet and apply it firmly to a care or brand label. If you want to apply a name label directly to fabric, buy an iron-on product instead.
How do you remove sticky name labels?

High-quality sticky name labels should not peel away from care or brand labels — during or after washing. However, you can peel them off with your fingers when you want to re-label garments.