Large name stickers and small name stickers - mini labels and maxistickers with your kids' names
At My Nametags, we believe the name stickers should match the occasion. That's why we have created a series of large name stickers and small name label stickers. Finding the perfect size for your possessions is important for a few reasons:

1. Name stickers should be easy to read

2. Style is sometimes the biggest priority

3. Overly large stickers can be obtrusive and impractical

4. The sticker is to be used as a branding tool that needs to be prominent

5. You need a discreet or hidden name sticker for school uniforms or clothing

We have developed a range of small name stickers and our proprietary Maxistickers to give you options.
Big name labels - maxi stickers
We call our big name stickers Maxistickers, and we believe they're the best in the business. Highly durable, waterproof and featuring high-quality print, Maxistickers are very popular among children. That's because they inspire creativity and bring out the artist in everyone.

While our Maxistickers perform a range of functions, one of the most popular right now is the branding of sports apparel. For example, you can design your own club crest, player number and player name to create a unique football strip that sets your organisation apart from the competition.

Other potential uses for Maxistickers include:

1. Branding school bags

2. Creating wall art

3. Clearly labelling water bottles

4. Stylising personal possessions such as stationery and lunch boxes

5. A new and innovative medium for aspiring artists and creatives

Take a closer look at our innovative large name stickers and all their potential uses. You can also play around with your own designs using our online design tool.
Small name labels - mini stickers
Our small name label stickers are easy to apply, durable, versatile and fully customisable. Simply design your small vinyl name stickers using our online tool, and we'll do the rest.

All you then have to do is decide where you're going to place your new small name tag stickers. The various options include:

1. Pencils

2. Pens

3. Staplers

4. Lunch boxes

5. Water bottles

6. Books

7. Shoes

When you need a discreet yet stylish way to label your possessions, small name stickers from My Nametags deliver the perfect combination of durability, personalisation and water resistance.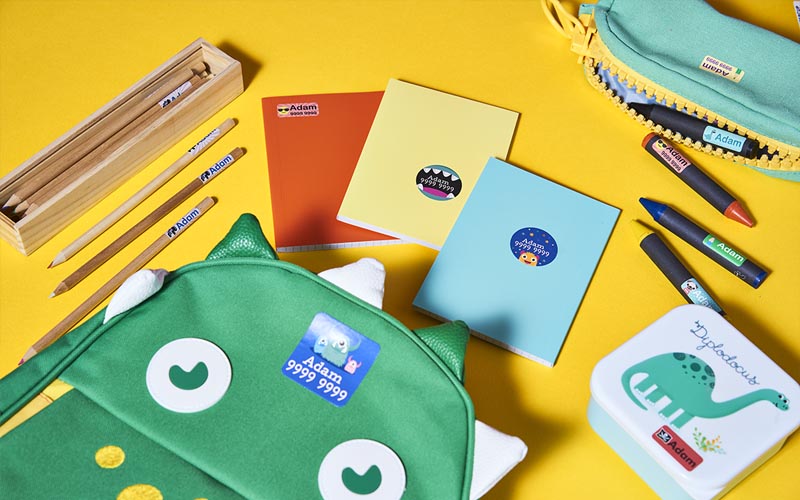 Personalised wall stickers
Are you looking for a relatively cheap and quick way to decorate your child's room? Or perhaps you want to create a heartfelt message on a wall in your kitchen? We've got the perfect solution — large vinyl wall stickers, personalised to your child's bedroom or other room.

Featuring highly durable PVC, bright and vivid prints and a premium adhesive, our wall and door stickers will brighted up any wall or door.

Creating personalised wall stickers with My Nametags allows you to:

1. Add a splash of colour to any room

2. Give your child a say in how their bedroom is decorated

3. Inspire your child's creativity

4. Create a unique aesthetic you can't achieve with paint or wallpaper

5. Make regular changes to a room's overall appearance

Find out more about how wall stickers or door stickers can transform any room with minimal effort. You can get fairy, unicorn or animal wall stickers, or even a room full of stars. We're here to help your creative juices flow!
How to order personalised name tags in all sizes
If you want to read more about large and small name stickers or shop for our sticker labels now, click on the buttons below.




Why Chose My Nametags?
Queen's Award Winner
We were presented with the a Queen's Award by HRH King Charles III (then The Prince of Wales) in recognition of bringing quality and innovative products to international markets.
Happy Customers
Because of our commitment to first rate service and quality products, we have a near 100% customer satisfaction rating in multiple countries which is unmatched in the nametag market.
Never Falls off
Our Colour Name Stickers will stay stuck after being put in the washing machine, dryer, dishwasher, or microwave countless times. Also, there is no need to clean them, they're antimicrobial!
Promoting Sustainability
A total of 1.4 million lost school uniforms (354 tonnes of plastic) ends up in landfill each year in the UK (My Nametags, 2020). Help our planet now by labelling to prevent loss.

Do stick on labels come off?

High-quality stick-on labels are designed to remain in place on both clothes and equipment such as water bottles. However, you can peel them off if you need to re-label an item for someone else.

If you need a permanent label for clothes, you should buy an iron-on name label — which you can apply with a domestic iron or a pair of hair straighteners.
Do iron on name labels stay on?

Yes, iron-on name labels are permanent. Once you've melted them into the fabric with an iron, they will remain there for the garment's lifetime. Use stick-on labels as a non-permanent alternative.
Are iron on labels any good?

For clothes, you won't find a more reliable or stylish way to identify them in order to prevent mixups and swaps. Iron-on labels can be applied directly to fabrics in seconds with a domestic iron.
How do you stick labels to clothes?

In most cases, you peel the sticker off a sheet and apply it firmly to a care or brand label. If you want to apply a name label directly to fabric, buy an iron-on product instead.
How do you remove sticky name labels?

High-quality sticky name labels should not peel away from care or brand labels — during or after washing. However, you can peel them off with your fingers when you want to re-label garments.