At My Nametags, we believe the name stickers should match the occasion. That's why we have created a series of large name stickers and small name label stickers. Finding the perfect size for your possessions is important for a few reasons:

1. Name stickers should be easy to read

2. Style is sometimes the biggest priority

3. Overly large stickers can be obtrusive and impractical

4. The sticker is to be used as a branding tool that needs to be prominent

5. You need a discreet or hidden name sticker for school uniforms or clothing

We have developed a range of small name stickers and our proprietary Maxistickers to give you options.


Big name labels - maxi stickers
We call our big name stickers Maxistickers, and we believe they're the best in the business. Highly durable, waterproof and featuring high-quality print, Maxistickers are very popular among children. That's because they inspire creativity and bring out the artist in everyone.

While our Maxistickers perform a range of functions, one of the most popular right now is the branding of sports apparel. For example, you can design your own club crest, player number and player name to create a unique football strip that sets your organisation apart from the competition.

Other potential uses for Maxistickers include:

1. Branding school bags

2. Creating wall art

3. Clearly labelling water bottles

4. Stylising personal possessions such as stationery and lunch boxes

5. A new and innovative medium for aspiring artists and creatives

Take a closer look at our innovative large name stickers and all their potential uses. You can also play around with your own designs using our online design tool.


Small name labels - mini stickers
Our small name label stickers are easy to apply, durable, versatile and fully customisable. Simply design your small vinyl name stickers using our online tool, and we'll do the rest.

All you then have to do is decide where you're going to place your new small name tag stickers. The various options include:

1. Pencils

2. Pens

3. Staplers

4. Lunch boxes

5. Water bottles

6. Books

7. Shoes

When you need a discreet yet stylish way to label your possessions, small name stickers from My Nametags deliver the perfect combination of durability, personalisation and water resistance.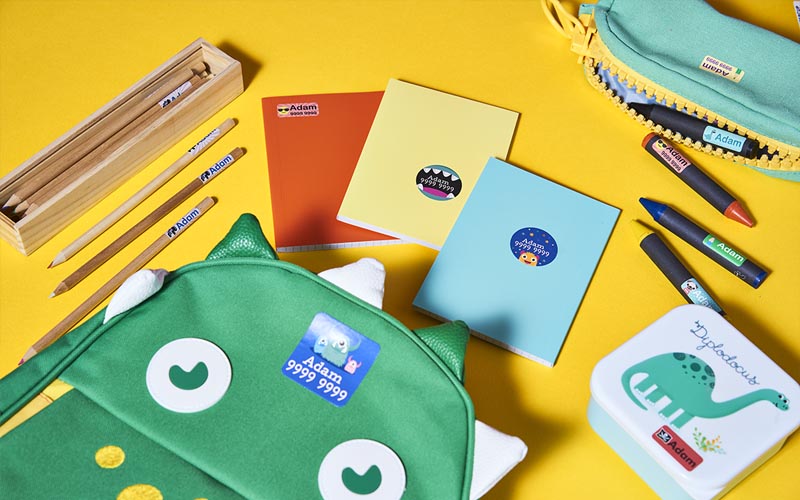 Personalised wall stickers
Are you looking for a relatively cheap and quick way to decorate your child's room? Or perhaps you want to create a heartfelt message on a wall in your kitchen? We've got the perfect solution — large vinyl wall stickers, personalised to your child's bedroom or other room.

Featuring highly durable PVC, bright and vivid prints and a premium adhesive, our wall and door stickers will brighted up any wall or door.

Creating personalised wall stickers with My Nametags allows you to:

1. Add a splash of colour to any room

2. Give your child a say in how their bedroom is decorated

3. Inspire your child's creativity

4. Create a unique aesthetic you can't achieve with paint or wallpaper

5. Make regular changes to a room's overall appearance

Find out more about how wall stickers or door stickers can transform any room with minimal effort. You can get fairy, unicorn or animal wall stickers, or even a room full of stars. We're here to help your creative juices flow!


How to order personalised name tags in all sizes
If you want to read more about our large or small name stickers, click the link.