Name stickers for bottles and equipment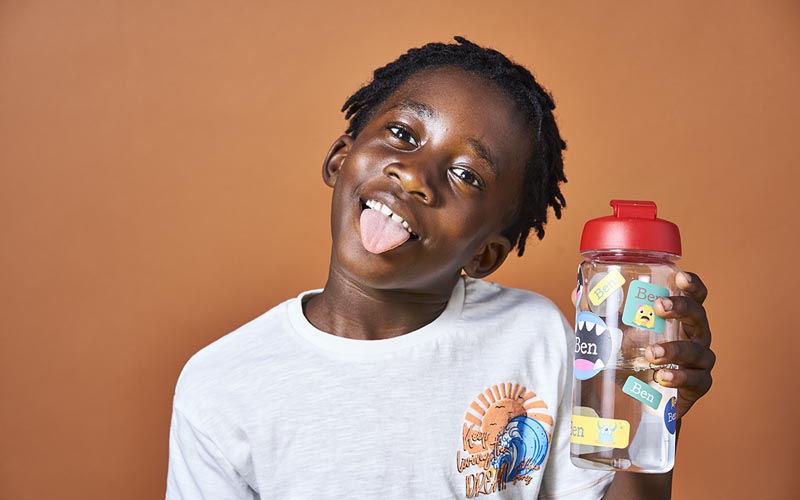 Name stickers for bottles are the stylish, practical solution to lost and misplaced possessions at school. The average child's schoolbag is now filled with everything from water bottles to packed lunchboxes and textbooks. And because many of these possessions look similar, they often get mixed up in typically chaotic school environments. With name stickers for water bottles and school equipment, however, you can clearly mark all your child's possessions — and put an end to these mixups for good.

You and your child can enjoy the fun of creating your personalised water bottle stickers from scratch. And with so many designs, colour schemes and sizes to choose from, you can't fail to find the perfect name stickers for your needs.

If you're looking for fully personalised and durable water bottle stickers in the UK, you've come to the right place!
Personalised name stickers for bottles, books and equipment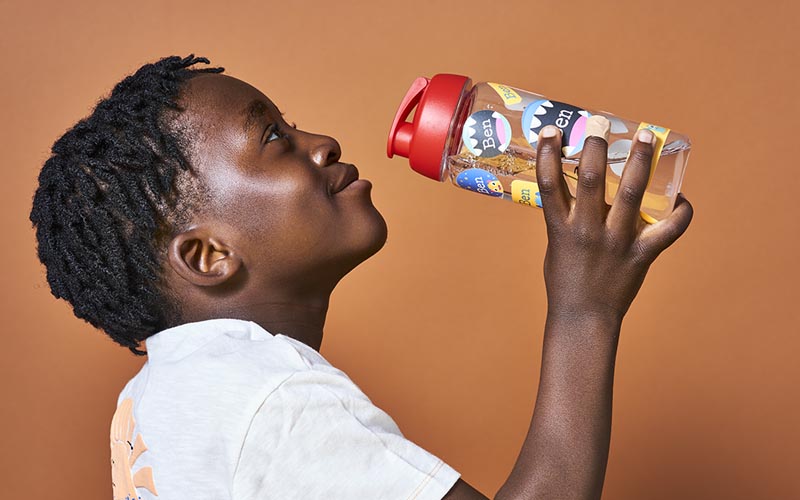 Name stickers for books, bottles and packed lunch boxes need to be durable and water-resistant. And while that's the priority, personalising school equipment is also important. You and your child can spend time creating the perfect design using our online design tool — and create something that will never get confused with other name labels at school.

Name stickers for water bottles from My Nametags combine the elements of durability and design to give you eye-catching sticky labels that will remain in place for as long as you own the item.

We all know how chaotic the average school playground, sports hall and dining room can be. It's not unusual for children to mistakenly pick up a friend's water bottle or lunch box. If they're all unlabelled, how can you tell which one belongs to your child?

The answer is as practical as it is fun — personalised name stickers for bottles, lunch boxes and books. Design yours online, add your child's name and place your order in seconds. When they arrive, simply stick your labels to the various items of equipment in your child's school bag.
Lunch box stickers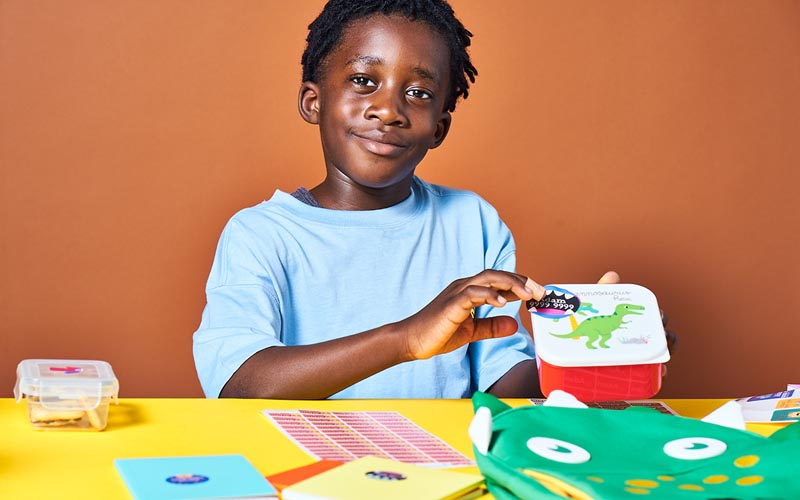 Packed lunch boxes for children tend to be branded according to the latest crazes. Whether it's Netflix's Stranger Things or Harry Potter, the same design can pop up many times across the average school year. And that makes unintentional swaps a major issue for parents across the country.

But lunch box stickers from My Nametags solve this problem quickly and simply. Water-resistant and made with a premium adhesive, these dishwasher-proof name labels can be applied in seconds — yet they're durable enough to stay in place for as long as the lunch box is in use.
Name stickers for books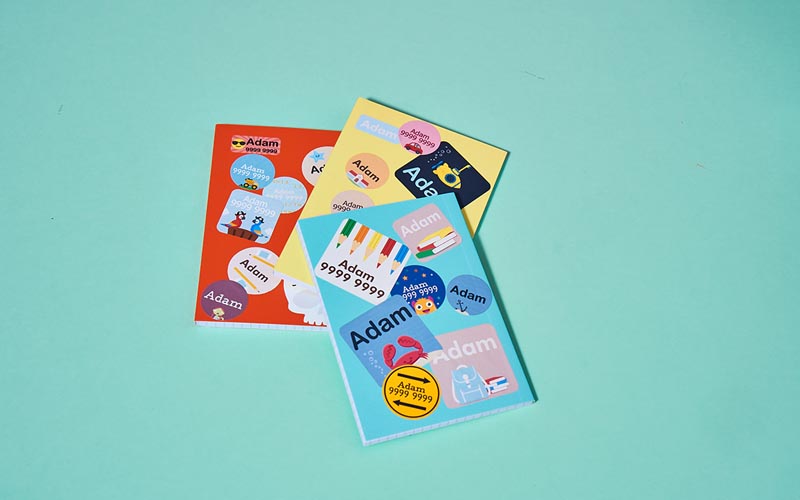 How do you stop your child returning from school with the tired and tatty textbooks they've picked up by mistake? And how do you prevent your child's exercise books from getting confused with those of their friends? The answer is simple — you identify them with personalised name stickers for books.

Design your customised name stickers for books in just a few minutes — and you'll never have to worry about your child coming home with their friends' books again. Durable, water-resistant and made with a premium adhesive, our name stickers will withstand the everyday punishment that's part and parcel of being carried around in a school bag.
Name stickers for pencils
One pencil looks much the same as the next, right? At first glance, maybe. But what happens when a chewed and scruffy pencil that clearly belongs to someone else returns home in your child's pencil case? How do you know who it belongs to? And how can you stop this kind of mistake from happening regularly?

Sticky name labels from My Nametags are available in sizes that are perfect for use on pens and pencils. Stick the label to all of your child's stationery, and you can say goodbye to accidental swaps forever.
Custom name labels for school stationery
When you have finished putting on the personalised stickers for the water bottle, lunch box and pencils, look at what other items your child will bring to school. Anything they bring to school deserves a custom name label to ensure that it is returned home safely. Make it your business this schoolyear to ensure everything is personalised and nothing is lost!
How to order name stickers for water bottles and equipment
If you want to read more about our name stickers for water bottles and equipment or shop for our personalised sticker labels, click the links below.




Why Chose My Nametags?
Queen's Award Winner
We were presented with the a Queen's Award by HRH King Charles III (then The Prince of Wales) in recognition of bringing quality and innovative products to international markets.
Happy Customers
Because of our commitment to first rate service and quality products, we have a near 100% customer satisfaction rating in multiple countries which is unmatched in the nametag market.
Never Falls off
Our Colour Name Stickers will stay stuck after being put in the washing machine, dryer, dishwasher, or microwave countless times. Also, there is no need to clean them, they're antimicrobial!
Promoting Sustainability
A total of 1.4 million lost school uniforms (354 tonnes of plastic) ends up in landfill each year in the UK (My Nametags, 2020). Help our planet now by labelling to prevent loss.

How do I put my child's name on the water bottle?

The easiest way to place your child's name on their water bottle is with a durable, water-resistant sticky label. A personalised label should last as long as the bottle.

Name stickers for water bottles are the practical solution to this problem. Order from My Nametags, and you can personalise your stickers with a name, colour scheme and a range of design options.
What kind of stickers stick to water bottles?

Water bottles have to be washed after every use, so the name stickers for them must be made with special labels and a special type of adhesive. But once they're in place, they should stay there.

My Nametags allows you to design your water bottle name labels online in minutes. And because they're made with premium materials, they'll stay in place on your water bottle forever.
How do you print names on bottles?

The fastest and most practical way to print names on bottles is to create personalised water bottle stickers. Design and order your stickers from a specialist printing company.

Before you order your name stickers for water bottles, however, make sure they're capable of remaining in place in wet conditions. After all, you'll need to wash your bottles regularly, and replacing your stickers after every wash is expensive. That's why My Nametags' sticky labels are both durable and dishwasher proof.
What kind of paper do you print water bottle labels on?

Water bottle labels need to remain in place in school bags, playgrounds and washing machines. That's why quality labels are made with a special type of plastic (PVC) that's both durable and water-resistant.

The name stickers for bottles available at My Nametags are made with a special plastic (with no BPAs) to ensure it can withstand water, everyday punishment and even the most chaotic of school bags.
How do I make my own bottle labels?

You can easily make a paper bottle label for a wine bottle or similar that does not need to be washed, but you need a professional name label if you would like to label a water bottle that goes in the dishwasher.

For paper labels, you can buy sheets of labels and print personalised decals from a number of free online programs.

For a personalised water bottle sticker, you should go to My Nametags for waterproof labels.