Name stickers for kids - choose the best labels or tags for your children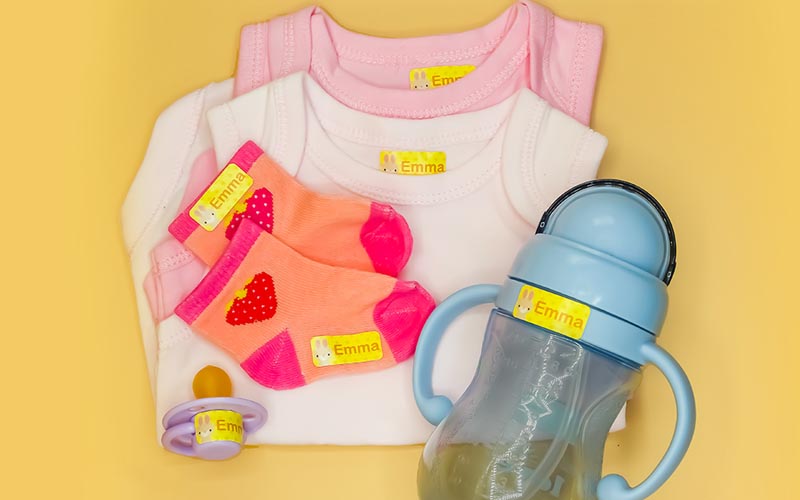 Name tags for kids clothes
Kids' name labels serve a very important practical purpose — they stop possessions from being lost or mistakenly swapped. But they should also be fun. And that's exactly what you get from the kids' stickers available from My Nametags.

Very young babies may not take much notice of stickers on their bottles, clothes and toys. But that doesn't mean that mum and dad can't have some fun personalising these items. As babies get older, however, they start to notice colours and patterns.

Toddlers love seeing familiar illustrations of their favourite characters, toys and symbols. So when they see a sticker they recognise, they instantly know that item belongs to them.

And for older children, stickers for kids are often a matter of personal pride or a reflection of their personality. In fact, lots of children love to show off their personalised books and school equipment to their friends. The use of personalised name stickers for kids helps them to do this in style.

You'll find name labels for kids of all ages right here at My Nametags. Durable, fully customisable and lots of fun, our products are the best on the market. Our stickers stay on clothing in the wash, so no need to sew on labels every again.
Baby name labels
While babies may respond to vivid colours and shapes, they won't always pay much attention to kids' name stickers on their milk bottles and toys. But the ability to identify your baby's possessions could help you to prevent them from being swapped or lost.

Looking after a baby at home is difficult enough, but it's even more challenging when you're out and about. You have to pack a multitude of items for just a short day out, and then you have to keep tabs on them. Even if you're naturally vigilant in this area, there will be times when you leave items behind at friends' homes, playgroups and public spaces.

When you have colour stickers from My Nametags identifying all your baby's possessions, however, you can tell instantly what belongs to your baby and what doesn't. Place the personalised name labels on everything from clothes to bottle sterilisers — they'll withstand unlimited washing cycles.
Toddler name labels
Stickers for toddlers are ideal for those times when socialising gets a little chaotic. Whether your child is at nursery, enjoying a playdate or a trip to the local soft play facility, getting their toys and possessions mixed up with those of other children is very easy.

But personalised name labels for kids that feature bright, vivid and original designs are easily identifiable at a glance. This is the perfect way to teach your children to identify their belongings — and look after them. And by using your child's name on the labels, you can help them to recognise it over time. High-quality childrens' name labels can be a great introduction to reading for toddlers.
Name tags for school age children
As toddlers become young children, they start to become aware of their personal tastes and preferences. Some even start developing their personal sense of style. A great way to help young kids to express themselves is by giving them personalised kids or childrens name labels to personalise their school clothes and possessions with.

But there's a practical reason why children's name labels are so important. Schoolchildren have a tendency to leave their books, uniform, PE kit, water bottles and school equipment lying about.

It's not unusual for children to return home after a day at school with another child's possessions. In many cases, personalised name tags prevent this from happening. And even when it does happen, tracking down your child's possessions is a lot easier when they're labelled.

According to Bobbi Wegner, Psy.D. — a clinical psychologist and lecturer at Harvard University — a child who regularly thinks creatively can more easily solve problems than a child who follows rigid protocol when looking for solutions. Allowing your child to take charge of the creative process when designing the name labels could help them to develop enhanced problem-solving skills in the future.
Teenager name labels
Teenagers tend to be less interested in 'childish' things such as personalised stickers for lunchboxes, but they still lose things — on a regular basis. While they may not be interested in bright colours and vivid images, they may still want to protect their possessions at school.

My Nametags allows teenagers to design a range of neutral name labels in order to prevent their books and school clothing from being lost or accidentally swapped. Even if they choose to print their name in a standard font with no illustrations, these name tags will be enough to prevent their possessions from being mislaid.
How to shop for kids name stickers
If you want to read more about our name stickers for clothes or shop for our name stickers for kids, click on the buttons below.




Why Chose My Nametags?
Queen's Award Winner
We were presented with the a Queen's Award by HRH King Charles III (then The Prince of Wales) in recognition of bringing quality and innovative products to international markets.
Happy Customers
Because of our commitment to first rate service and quality products, we have a near 100% customer satisfaction rating in multiple countries which is unmatched in the nametag market.
Never Falls off
Our Colour Name Stickers will stay stuck after being put in the washing machine, dryer, dishwasher, or microwave countless times. Also, there is no need to clean them, they're antimicrobial!
Promoting Sustainability
A total of 1.4 million lost school uniforms (354 tonnes of plastic) ends up in landfill each year in the UK (My Nametags, 2020). Help our planet now by labelling to prevent loss.

How do you make a name tag for kids?

Making a name tag for kids that will withstand daily punishment and regular washing is almost impossible without professional equipment, high-grade PVC and durable inks.

We recommend buying high-quality personalised name labels to save time and money. My Nametags allows you to design your own durable stickers for kids in minutes. All you need to do is place them on your child's school uniform, school shoes, water bottles, lunchboxes and personal possessions.
How do you stick a name tag on kids' clothes?

Place the personalised name labels directly onto care or brand labels. Name stickers aren't designed to be placed directly onto fabrics — they can become displaced after just a few washing cycles.
How do you label school uniforms?

There are two great options when it comes to labelling school uniforms: iron-on name labels (permanent) and kids' name stickers (semi-permanent). Use stickers if you want to give away a garment.