Name stickers for school - the perfect school labels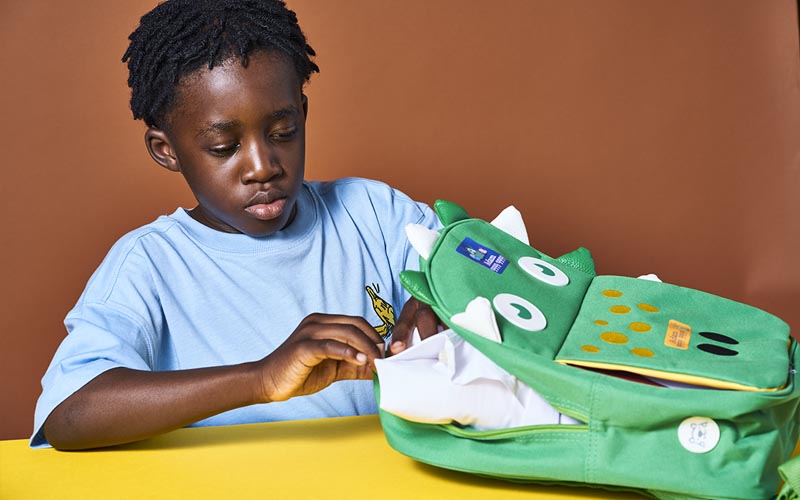 Name stickers for school are a simple yet stylish way to identify your child's school uniform, books and equipment. Made with quality materials, premium inks and state-of-the-art printing equipment, the name label stickers available from My Nametags are designed to last just as long as the possessions they identify.

If you have name tag stickers for school at your disposal, you can protect your child's possessions at all times. Design a customised sticker and simply place it on the possessions you want to protect! It couldn't be easier with the My Nametags online design tool.
Name stickers for school in the UK
Has your child ever brought home someone else's school jumper or lunchbox? Has your child ever lost something at school because it got confused with someone else's?

If you have experienced either of these school-based calamities, don't worry — you're not alone. The frenetic nature of the average school day means mix-ups and accidental swaps are commonplace.

When you have name stickers for school from My Nametags, these types of incidents will happen much less often. And when they do, you'll be able to trace your child's possessions quickly.

With personalised name stickers for school, you can say goodbye to lost uniforms and textbooks for good.
What are the various uses of school labels?
If your child can take it to school, it can get lost — it's as simple as that. Fortunately, the original school name stickers from My Nametags can be stuck onto just about anything. Whether you're trying to protect your child's school tie from being swapped or their lunchbox from being lost in a dining room of identical lunchboxes, custom name labels are the practical solution.

Place your labels for school on:

1. School uniform

2. Sports clothing

3. School shoes

4. Water bottles

5. Pencils

6. Stationery

7. Books

Simply design your personalised name stickers for school using the My Nametags online design tool and place your order. The rest is child's play!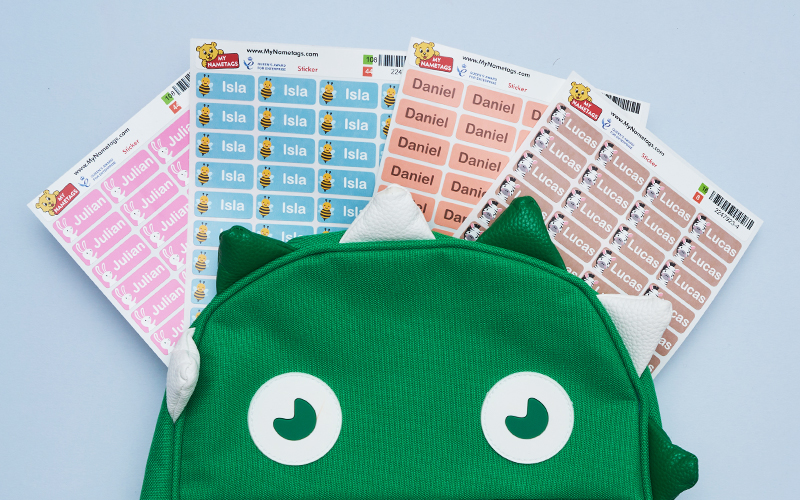 Perfect as shoe labels too
In addition to being brilliant nursery and school uniform labels, these personalised labels are also perfect as shoe labels too. My Nametags' regular name labels can be used everywhere, and stays on in the wash!
Do I need iron on or woven sew on labels?
The personalised school labels from My Nametags are useable everywhere. There is no need to shop for nursery or school label packs with sew ons, iron ons, shoe labels and stickers. Our sticker name labels can be put on all clothing and items, and stays on in dishwasher and washing machine. The only time you might want to consider iron on labels are for items without a care label like socks and some underwear, or if you are looking for care home labels that might be washed at boiling temperatures.
Best name labels for school
When it comes to quality and longevity, the name tag stickers for school available from My Nametags simply won't be beaten. We use premium PVC plastic, durable inks and proven printing processes to ensure our school labels look great and last as long as the items they identify.

We give you a range of design options to ensure your school labels are 100% unique. Add a name, colour scheme and a few design details, and we'll do the rest. All you need to do is peel your stickers off the sheet and place them on your child's possessions.

Note: If you're placing name labels on clothes, be sure to do so on the special care or brand tags — and not on the fabric.
How to shop for our special school name labels
If you want to read more about our name stickers or shop for our personalised sticker labels, click the link.




Why Chose My Nametags?
Queen's Award Winner
We were presented with the a Queen's Award by HRH King Charles III (then The Prince of Wales) in recognition of bringing quality and innovative products to international markets.
Happy Customers
Because of our commitment to first rate service and quality products, we have a near 100% customer satisfaction rating in multiple countries which is unmatched in the nametag market.
Never Falls off
Our Colour Name Stickers will stay stuck after being put in the washing machine, dryer, dishwasher, or microwave countless times. Also, there is no need to clean them, they're antimicrobial!
Promoting Sustainability
A total of 1.4 million lost school uniforms (354 tonnes of plastic) ends up in landfill each year in the UK (My Nametags, 2020). Help our planet now by labelling to prevent loss.

How do you write your name on a school uniform?

While there are fabric pens available, they can be messy — and the results are often unsatisfactory. That's why we recommend using name tag stickers for school clothes and equipment.
How do you make a name tag for school children?

We believe that investing in professionally printed name label stickers for school is the most cost-effective way to protect your school uniform, books, water bottles and equipment.

While it's possible to create your own name stickers for school, we don't recommend it. One of the issues we often hear about is fading. If you're making school name stickers without commercial-grade inks and machinery, they won't last as long as the items they're identifying. Even a single washing cycle could be enough to either dislodge the sticker or render it illegible.

Our school name stickers are designed to look like new after multiple washing cycles.
How do you iron a name tag on a school uniform?

You will need to buy an iron-on name label, which is designed to "melt" onto fabric when heat is applied. While this is an effective way to label clothes, it's a permanent one.

Simply place the label where you want it on an item of clothing, and apply heat with a domestic iron. You can also use hair straighteners.
How do you sew a name label on clothes?

While it's possible to sew name labels onto clothing, we don't recommend it. Not only is it fiddly and time-consuming, but it can also damage fabrics unless you know what you're doing.

Placing school name stickers directly onto care and brand labels is quicker and more cost-effective. And our name tag stickers for school last just as long as sew-on options.
How do you mark kids school clothes?

There are several ways to mark kids' school clothes. Some people use fabric pens; others sew on labels. But we believe the fastest and most effective way is to use school name stickers.

If you choose to use name stickers for school instead of iron-on labels, make sure you place them onto care or brand labels, as they won't stick to the fabric during washing cycles.
Where do name tags go on school uniforms?

If you're using name stickers for school to identify items of uniform, you should place them on care or brand labels. Don't place school name stickers on fabric, as they won't survive a wash cycle.