Design your Height Chart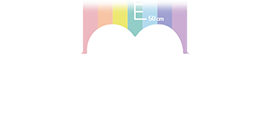 Order a set of Height Charts for £29.95
Children grow in bursts - and suddenly they have almost become a whole head taller. With this enchanting rainbow height chart you can actually see that your mind is not playing tricks on you, they actually have grown that fast! With My Nametags you are able to get a fun and colourful height chart in your child's favourite design which you can personalise with their name and/or date of birth.
The set contains a self-adhesive height chart and several small decorative elements in pastel rainbow colours. The height chart, as well as the other elements act as a sticker and can be easily attached to walls, doors and cabinets. The rainbow height chart, which is the largest element in this set, is 184 cm long and 35 cm wide.
The decor is made of a flexible material that does not stretch or damage the wall. They sit best on smooth surfaces, but can also work on lightly textured surfaces.
The height chart follows the child from 50 to 160 cm. To get an accurate measurement, you should place the height chart at the correct height on the wall using the ruler we provide. This ruler is 50 cm long and also works as a sticker. You should apply it on the wall from the floor and then place the height chart at the top end of it so there is 50 cm from the height chart and the floor. Make sure the height chart starts where the ruler ends. Do not worry if you do not get it right on the first try, the stickers can be easily removed and reapplied afterwards, leaving no marks on the wall. Once you have the height chart in place remove the ruler.
Do you want to add even more colour to your children's room? You are able to do it easily and quickly with our door stickers and wall stickers in the same theme.