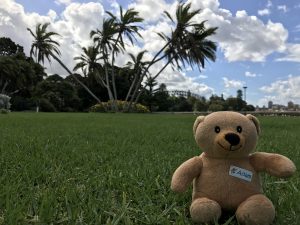 Remember last week when I was getting drenched by a tropical storm outside the Sydney Opera House? Well I'm back and this time a little dryer! I was getting used to wearing my poncho but thankfully I can now be back in my natural cuddly state.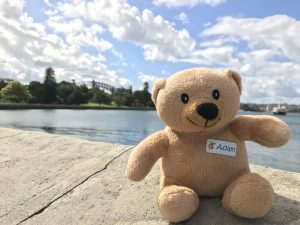 I went for a walk along this wall. As I stopped to admire the view, a passer-by noticed my nametag shining brightly. As the man approached I could see the concern on his face gradually increase. He picked me up and held me tightly in his hand. He looked around to see if anyone standing nearby might own me. Gazing me up and down he searched for more clues. My heart was beating faster and faster. I didn't want to be abducted because I was enjoying my holiday so much! He slowly drew me closer to his face. I looked him directly in the eyes, praying he wouldn't steal me. As he paused for what seemed like eternity I saw a glint of discontent in his eyes. He couldn't figure out a way to reunite me with my owner and so failing to establish a solution, he popped me back on the wall and slowly walked away, turning his head towards me every so often as he drifted into the distance. I sighed with relief. "Few! That was a close one…"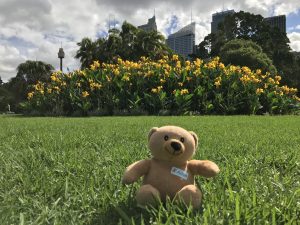 Little did he know my name was in fact Adam, not my owner. I'm not like your average teddy bear you see. I'm on my own journey, exploring every nook and cranny of the globe in an effort to enrich my experiences and feedback some epic stories to you awesome guys. I'm sure one day I'll reunite myself with my owner, but for now the journey of discovery must go on.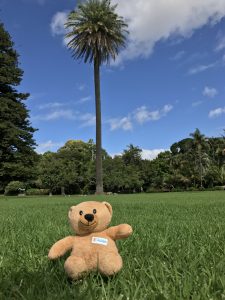 This park seems like a safe place for me to call home this week. It has my favourite type of trees and comfy green grass. So long as it doesn't start raining again… Next week I'll be heading somewhere far far away. Stay tuned to see my progress, I wonder what's around the next corner?… Until next week folks…